Get Your AdWords Campaing Professionally Set Up For Only £499 + VAT
And Receive a £120 AdWords Voucher FREE*

---
Let us take the hassle and frustration out of setting up an AdWords campaign. We'll set up a professional campaign that attracts new customers at the best possible Cost Per Click – we'll even add a voucher worth £120 in Ad Spend!
£499+ vat – no hidden extras
Get £120 back in ad credit
Professional set up by Google Partner
Ready & live in 1 working day
Saves you time & effort
Full access & ownership of the account
Landing page for your website
More customers at a lower cost!
Stop Wasting Money On Your AdWords Campaigns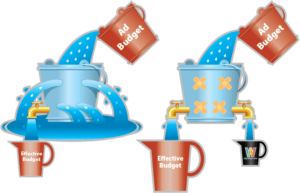 myWebhero plugs the holes in your AdWords campaign, making sure more of your budget goes on driving relevant clicks
---
---
Adwords Campaign Set Up
Chose an AdWords professional to set up your campaign to avoid costly mistakes and generate more business.
Our campaigns are designed to optimise your budget so less is wasted on irrelevent clicks and more is target towards audiences who are actually interested in purchasing your product or service.
Default Settings – default settings removed for efficient budget management
Campaign Structure – logical structure to improve Quality Score & reduce costs
Keywords – we find the best keywords for your business based on volume, cost & competition
Bidding – we set the bidding strategy in your favour by using manual or enhance cpc models
Match Types – we use the most relevent match type for your keywords (never using broad match!)
Negative keywords – we research 1,000's of negative keywords to make sure your budget is spent only on relevent keywords
Ad Extensions – increase click through rates & QS with all applicable extensions to your ads
Bid Modifiers – we target the correct audience by adjusting bids on age, location gender, device and time
Ads – we write our ads to stand out from the rest to gain as many clicks as possible
Voucher Terms & Conditions